One of the first things we do in a new city is get acquainted with its layout and public transportation. This is particularly important if we have firm deadlines to meet for something, as we did in Helsinki, take-off point for our trip to St Petersburg, Russia. 
    And Helsinki presented some challenges. For one thing, it has more than one harbor, so we needed to determine at which one our ferry to St Petersburg was docked. (It was the west harbor, the same departure point for the day trip we hoped to take later to Tallinn, Estonia.) Also, we learned that the only bus route going from the central station to the harbor ran only about every 15-20 minutes, so timing became even more important. Still, after we'd learned all that, we could relax and explore the town for a couple of days before boarding the ferry: churches, museums, markets, shops and lots of walking, admiring architecture and people-watching (they're not all blonde in Finland, but almost; and not all tattooed, but nearly so).
    We found it really easy to get around Helsinki. The subway was about a two-minute walk from our very nice campground on the outskirts of town, and a 20-minute ride brought us right to the train station in the center of the city, where there were connections to all the trams and buses.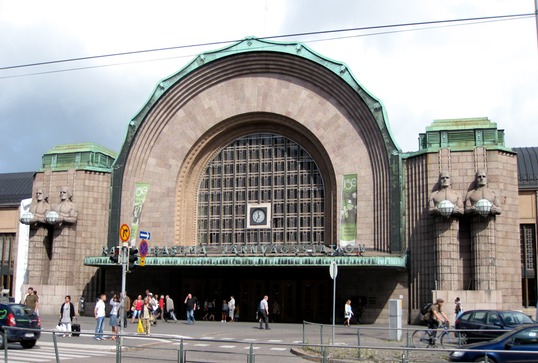 Helsinki Central Station, designed by Eliel Saarinen, 1919.
Once again we bought day passes so we could hop on and off public transportation as we wanted. They cost about $10 each, less than the cost of three rides.
    Helsinki is the World Design Capital for 2012, and while it is heavily advertised here, we didn't see that the title made much difference to us tourists. True, we visited a design museum and a showroom of that wonderful simple Scandinavian design, and in the markets there were lots of knitted items, real fur and Baltic amber jewelry . . . but somehow we expected more. Finally, on our last day in the city, we stumbled across an old porcelain factory/design showroom that had shops full of such innovative kitchen ware that we want to throw out everything we own and start over. 
    One of Helsinki's major challenges is the language: Finnish is impossible for us. For one thing, it tends to add words together. During her stay in the hospital, for instance, Susan learned that Finnish makes "Turkuuniversityhospitalcafeteria" a single word. We can read it if we recognize the four words involved, but put that into Finnish with its K's and V's and umlauted vowels and doubled letters of all kinds and it becomes unintelligible. (A few examples: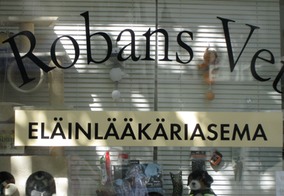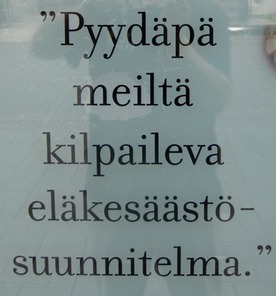 Because Sweden once controlled Finland, Swedish remains one of the country's two official languages, so many signs are in both: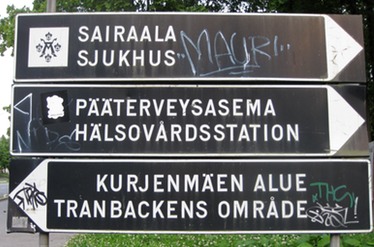 Once in a while, they also use English: it's the default language for the Dutch, Germans, Italians, Asians, and French (who just hate it, you can tell) . . . which is really nice for us.  
    After we'd returned from St Petersburg, we decided to tempt the Seasick Gods once again and took a day trip to Tallinn, Estonia, to visit the old medieval walled city. It was a rough and windy two-hour crossing both ways. As the passengers got off the boat at either end, it was clear that many people take these trips just to stock up on liquor at the duty-free store on the ferry: they come with folding rolling carts and leave with them loaded with cases of vodka, whiskey and wines.
    We walked the cobbled streets of this city's charming old town district, snapped lots of photos we won't inflict on you (well, OK, but just one):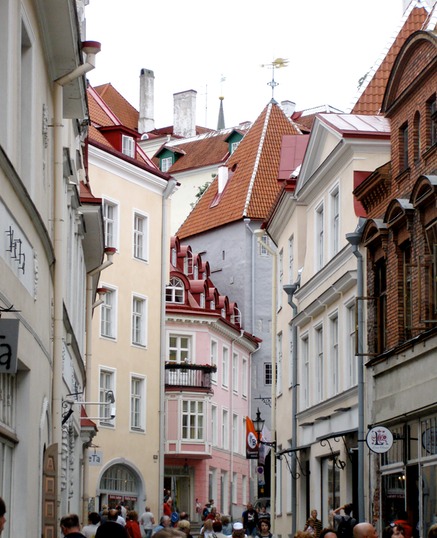 and visited a few churches and shops. Every other building is a restaurant; those that aren't are souvenir shops. It is a popular day-trip destination: close to Helsinki, the old town small enough to see in a day, and, because Estonia is an EU nation, no passport control to slow anybody down (and of course there's also the duty-free liquor).
    We close with a "small world" story: in St Petersburg, our little canal boat tour group (seven) had included a young couple. Two days later, the male half of the pair was right behind us in line to board the ferry to Helsinki. Then, the day after that, as we left Tallinn, we saw him again, leaning against a doorway, as we made our way through the city wall to the boat. He was as astonished as we were to meet a third time. Apparently it was easier for him--but surely more expensive--to travel to Helsinki and do the "three-days-without-visa" trip to St Petersburg to visit his girlfriend than it would have been to go directly from Tallinn to St Petersburg.