We've been doing some short mileage days with short trips into small cities and towns. Our first stop was at Roskilde, where a large campground overlooks a fjord. It was a lovely sloping spot, but the hedge behind us blocked our view. We were even brave enough to walk into the salt water, which wasn't as cold as we had expected.
This small city has a UNESCO World Heritage Site Domkirke (cathedral) where 37 Danish kings and queens are buried. "Buried" may be misleading: they are not under the church's floor or nearby, but in massive carved stone caskets in side chapels, each more ornate than the last. On one chapel's walls were painted such exquisite murals of the monarch's life you would swear their frames had been carved from stone. In fact, though, they were two-dimensional trompe l'oeil paintings.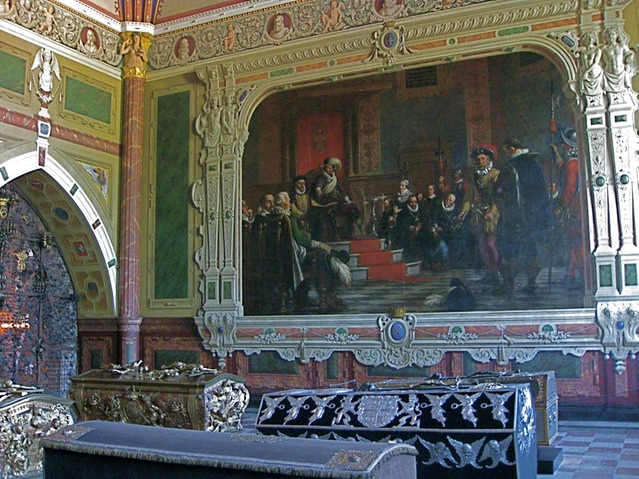 And a ghoulish touch: one of the chapels is currently being readied for the entombment of the present king and queen (there's even a photo of the sarcophagus that's been OKd).
Roskilde's second attraction was the Viking Ship Museum. We left the campground early so we could park Rover easily in their parking lot and waited for it to open. But as we were waiting in line to purchase $20 tickets (each!), we looked over the rail into the open area below and saw all five ships. Centuries ago, they had been filled with rocks and scuttled in the harbor to prevent an invasion. In 1962 some of the pieces were recovered and the ships reassembled. But only partially . . . and since we had seen bigger, better, and much more intact ships in Oslo, we decided to save our money and go on our way  to Odense.
Odense is on the more western of Denmark's two major islands and gave us the chance to navigate another 10-mile bridge (and to pay its$122 toll). The young man in the toll booth asked us how much Rover weighed. We answered him (but in lbs, not kgs, which he did not understand). He asked if we had our vehicle registration; when we told him it too would read "pounds," he gave up, took our money and waved us on.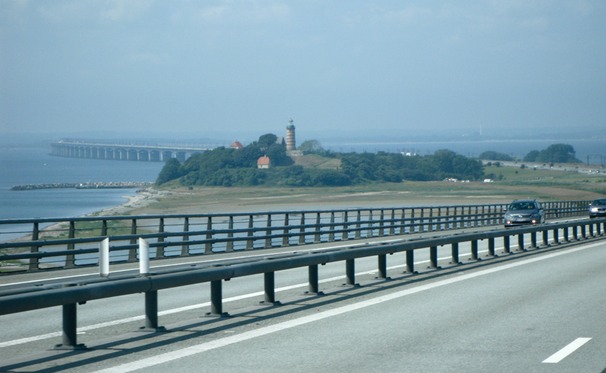 We walked the streets of Odense's old town, saw Hans Christian Anderson's little birthplace . . . and not much else. But if you want to purchase something "fairy tale," Odense is the place to go. We got a little turned around trying to get to a gas station and toured a residential area. They obviously need a few more traffic circles. Gas: 44 gallons for $342, or $8.10/gal. Both here and at a gas station in Sweden the pump stopped automatically at 500 or 1000 kroner; this didn't come anywhere close to filling Rover's 55-gallon tank, so we had to reinsert our debit card (only once in Odense, but three times in Sweden).
We drove on to Kolding, a town in Jutland, Denmark's westernmost province. This bridge was a measly 5 miles, with no toll. We are now on Europe's primary landmass, so we expect no more ferries or huge bridges. Kolding has a fortress (1268) turned castle (1400) that is unlike anything we have seen before. It was destroyed by fire in 1808, the heavy slate roof crashing down and destroying everything but the outer stone walls.

The "restoration" in the 1990s kept the exterior ruins intact and visible and supported the new floors with modern wood and metal structures that suggest the original interior structures. Each room is now a gallery for changing displays. It was quite a pleasant surprise.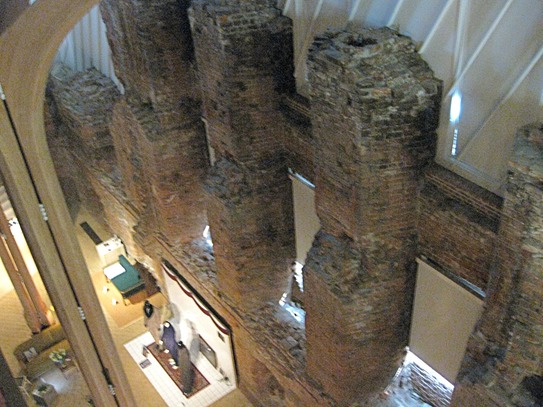 Then we ventured on to the Trapholt art gallery, which turned into a major bus ride, a long walk and a very long wait for the bus to return. The gallery was interesting, but they wouldn't allow anyone to sit on the Danish designed chair collection. Maybe, just maybe, it was worth the travel hassle.
On Sunday we drove on to Ribe, the oldest town in Denmark. It deserves a photo album of its own. Some of the houses here are more than 300 years old. It was easy to walk the entire town in a couple of hours, and because it was Sunday--even in the high tourist season--many shops were closed. There were several large stork nests visible on the high chimneys in the town.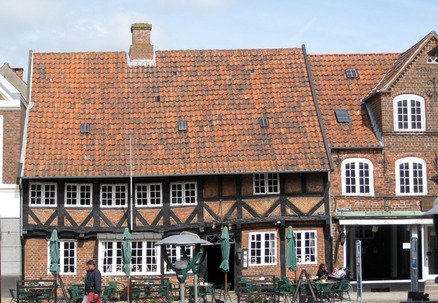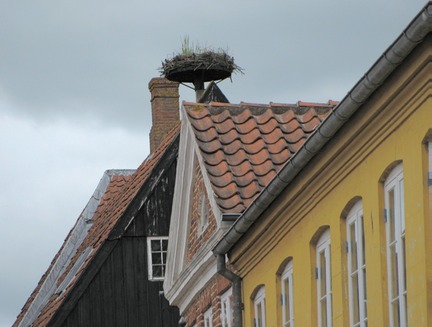 We drove on to Mogeltorden, another old town about one street wide and just about the most romantic looking place you can imagine: 300-year-old houses, roses climbing everywhere, a cobblestone street where Rover wasn't allowed. There were even fewer shops here--it's just a lovely street of old houses, followed by a large church and a huge campground (with lousy wifi).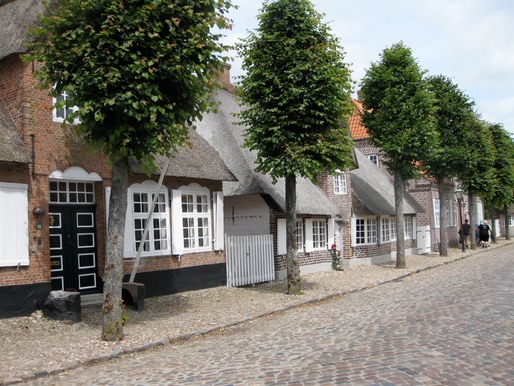 These last few days of travel have followed a variety of patterns: sometimes we are in a campground for two or more nights; sometimes we arrive around noon and then explore the town; at other times we visit one or two towns before stopping for the night. There are plenty of campgrounds to choose from, so we don't have to commit ourselves before we are ready to.
Rover continues to perform well. We have chosen to shut off the incoming electricity a couple of times due to voltage drops in the campground's power and to keep our inverter/charger from switching off and on. Best of all, Susan has less pain and David is keeping up with her (we just move a little more slowly than, say, five years ago). Tomorrow: Germany.